HBS Club Event with COMMANDER STEVE SHINEGO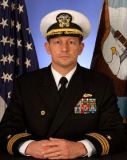 The Harvard Business School Club of South Florida
is pleased to invite you to a special event sponsored by the
University of Miami School of Business
entitled

Command at Sea: Leadership Lessons from the
Bridge of a Modern Man-of-War

with guest speaker
COMMANDER STEVE SHINEGO, USN
Commanding Officer, US Navy Ship GRIDLEY DDG 101

Today's Navy captains face a far different world from that depicted by Russel Crowe in Master and Commander. Modern technology has led to warships and naval strategies so far advanced that they bear almost no resemblance to sailing ships and battles of old.

Leadership however, remains as important as ever. Leading men--and now women--into harm's way remains a challenging endeavor. Keeping them motivated and focused, in the close confines of warship, presents management issues not often found in the civilian world. Join us as we listen to CDR Steve Shinego, commanding officer of a new US Navy guided missile destroyer, as he describes the leadership lessons he has learned during his distinguished naval career. We will also learn about the cutting edge technology and weaponry found on modern day warships. US Navy ship GRIDLEY will be commissioned in Miami in February 2007.

on
TUESDAY, NOVEMBER 14, 2006
Reception 6:30 PM
Presentation will start promptly at 7:30 PM.
Hors D-Oeuvres will be served

at the
Storer Auditorium
University of Miami School of Business
5250 University Drive
Coral Gables, FL, 33146

Complimentary Valet Parking
University Drive Entrance Only

Space is limited and is on a first come first served basis. You must RSVP below or at rsvp@hbssouthflorida.org with the full name(s) of your guest(s) no later than Thursday, November 9, 2006.

_____________________________________________________________________________________


Bio of Commander Stephen A. Shinego, USN
Commander Steve Shinego was raised in Hallandale, Florida. He attended the University of Florida, earning a BS in Engineering (honors). He was commissioned through the NROTC program in December 1987.

His initial sea tour was as a plankowner onboard USS PHILIPPINE SEA (CG-58), serving as Auxiliaries Officer, First Lieutenant, and Missiles Officer from 1988 to 1992. The tour on PHILIPPINE SEA included an extended deployment in support of Operations DESERT SHIELD and DESERT STORM. Following this tour, he served as an NROTC Instructor at North Carolina State University from 1992 to 1995. While stationed there, he also completed his Master's Degree in Management (honors). His Department Head sea tour was as Weapons Officer and Combat Systems Officer on USS GETTYSBURG (CG-64) from 1995 to 1998, which included deployments in support of NATO operations in the Adriatic Sea and Operation SOUTHERN WATCH in the Arabian Gulf. GETTYSBURG earned four consecutive Battle Efficiency awards from 1995-98. Subsequent to this, he was a Missile Defense Officer in the Central Command Operations Directorate from 1998 to 2000. CDR Shinego served as Executive Officer onboard USS PAUL F FOSTER (DD 964), including a full deployment and the first two months of a second, accelerated deployment in support of Operation ENDURING FREEDOM. FOSTER earned the Battle 'E' in 2002. He reported to OPNAV N76 in September, 2002, working Interoperability and Open Architecture issues. He was promoted to Commander in July, 2003, and was assigned to OPNAV N80 the same month to work Shipbuilding and Warfighting programs.

His personal awards include the Defense Meritorious Service Medal, Meritorious Service Medal (2), Joint Commendation Medal, Navy Commendation Medal (3), Navy Achievement Medal (2), and Army Achievement Medal. Unit awards include the Battle 'E' ribbon (6 awards) and Joint Meritorious Unit Commendation (3 awards).

CDR Shinego's wife Susan is originally from Gainesville, FL, although they met in North Carolina while she was completing graduate studies in Physical Therapy at UNC-Chapel Hill. They have three children – Matthew (9), Hailey (6) and Landon (15 months). Their home of record is Riverview, FL.